The latest version in the long and highly successful line of Grand Theft Auto games, GTA V by Rockstar Games is ready to be released (the Playstation version has already been released) and is generating a ton of interest among its fans. Funny memes ranging from restlessness of the fans to salient features of the game and the various effects it has on the gamers are doing the rounds regularly.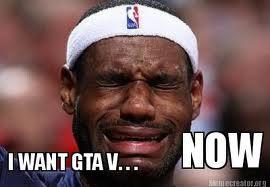 The famous NBA star is seen crying about the delay of the release date by Rockstar Games. Whether he is actually this sad about still not being able to lay his hands on the game or not, there is no doubt in the fact that millions of GTA V fans are growing restless with each passing day.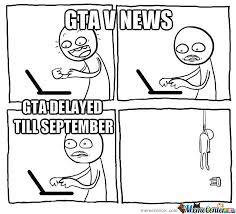 Another meme in line with the current (pitiable) situation of the fans waiting desperately for the game to release for PC, this meme shows a troll character, who is also a GTA fan (imagine that!), upon knowing that the release of GTA V has been postponed, finds nothing better to do than to commit suicide.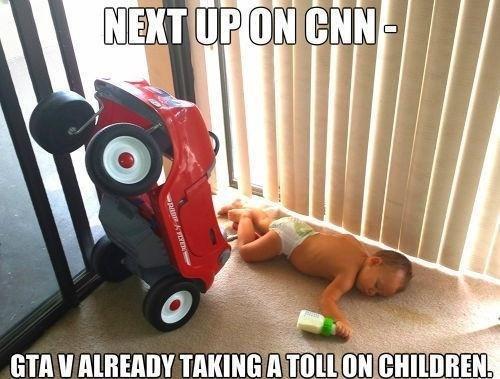 This is a meme taking a sarcastic stance on the game and compares the blood, booze and sex of the game with this little child sleeping with a bottle in his hand, after having crashed his toy car (depicting a drunk driving car accident). The kid looks really cute though!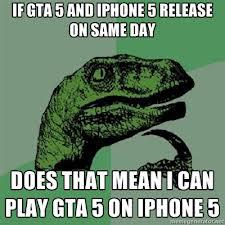 This one is a rather slapstick joke and the thinking dino asks whether GTA V would run on the iPhone 5S as they are releasing on the same day. This is why dinosaurs have gone extinct.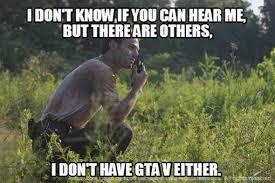 In this meme, a guy is seen talking on a radio phone, transmitting to others not to worry as there are others too who do not yet have GTA V. What pity!
Read: How Miley Cyrus at the VMA's will go down in history: Illustrated